The stack effect is used to operate natural draft cooling towers. This effect causes hot air to rise in the tower.
Natural Draft Cooling Towers
Natural draft cooling towers are most commonly used in power plant settings. The stack effect is what is responsible for producing the necessary stream volume needed for cooling. Natural draft models offer a unique economic advantage in that energy requirements are extremely low, especially compared to other cooling towers. Power plant owners will appreciate the fact that operating costs are minimal.
There is a large distance found between the air inlet and outlet. This gap helps discourage the recirculation of warm air. Additionally, the lack of moving parts in this model make it reliable and inexpensive since very few maintenance issues will arise.
Benefits of a natural cooling tower:
Low maintenance costs.
Highly reliable.
Low energy costs.
Efficient components.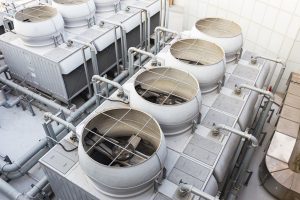 Forced Draft Vs Induced Draft Cooling Towers
How do natural draft towers differ from forced and induced draft towers? Induced draft towers will have a fan atop the tower, which pulls the air upward. The fans will then induce the hot and moist air out of the discharge. A powerful exit air velocity then reduces any possible recirculation within the tower. The main goal of induced models is to eliminate any discharged air flowing back inward to the air intake area.
Forced draft cooling towers will feature the fan at the base of tower, instead. Both axial and centrifugal fans will then create the overpressure.
Forced Draft Tower Features
Lower noise levels.
Dry air stream drive.
Little space required for installation.
Ease of maintenance.
Induced Draft Tower Features
Low-absorbed capacity.
Humid air stream.
Higher noise levels.
Universal Tower Parts In Phoenix, AZ
Universal Tower Parts provides stainless steel and galvanized options, welded and gasketed, direct, gear reducer and belt drive units, with efficient Jedair fans, and Jedair low noise fans. Strainers, fan guards and louvers are well constructed, and designed to operate efficiently as they perform their function. Cool Core drift eliminators and fill are made by Universal Tower Parts expressly for our towers.