ONLY THE BESTS COOLING TOWER PERFORMANCE PARTS GUARANTEED!
COOLING TOWER FAN SUPPLIER & MANUFACTURER | UNIVERSAL TOWER PARTS
If you are searching for cooling tower fans, cooling tower fan manufacturers , industrial cooling tower fans, cooling tower fan blades, or cooling tower fans suppliers, Universal Tower Parts can help! We manufacture and supply high quality Cooling Tower Fans, Belts, and Fan Wind Milling Stops. Fans serve the function of forcing or driving air throughout the cooling tower. Cooling tower fans tend to be noisy, but there are models out there that are quieter. These are top quality, high efficiency fans that will save you time and money. Industrial cooling towers are an essential component for a wide range of industries and, because of this, ensuring that they are operating as optimally as possible is a great way to keep costs down and increase the overall efficiency of an industry. Contact Universal Tower Parts and get a free quote today!
IF YOU ARE IN NEED OF COOLING TOWER FANS OR ANY COOLING TOWER FAN COMPONENTS, UNIVERSAL TOWER PARTS IS YOUR BEST OPTION!
One of the best ways to guarantee that a cooling tower is running as efficiently as it can is to make sure that the particular cooling tower fan being used within the tower is the best possible choice for the tower's application. Our cooling tower fans and corresponding components are manufactured by expert technicians with over 80 years of combined experience which is why we guarantee both the quality of the product as well as your satisfaction with its performance.
COOLING TOWER PARTS AND PRODUCTS FOR SALE
COOLING TOWER FAN EFFICIENCY
In the industry of cooling towers, many tower parts and components are necessary to ensure that the tower is reducing heat as efficiently as it can. Correct water flow is critical in making sure that the fill media/ material has enough saturation and can hinder the rising heat, clean surfaces are required to ensure that scaling doesn't affect the evaporation degree of the water, and proper airflow is needed to make sure that the heat doesn't cease to flow in the body of the cooling tower. With all of these components playing a part in the general efficiency of the cooling tower, the fan assembly, if not properly optimized, can neutralize the positive components by greatly decreasing the amount of heat that is able to be exchanged.
COOLING TOWER FANS & ACCESSORIES
Fan Diameter: 3'-6' / Blade Width: 5 Inches
Shank: Cast Aluminum B-26, GM70B (ALMAG 35)
Hub Center: Extruded Alloy
Hub Plates: 5052-H32
Clamp Bolts: Zinc Plated Grade 5 Carbon Steel
Hub Bushing: Ductile Iron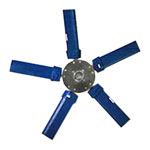 Fan Diameter: 3.5'-8′ / Blade Width: 7 Inches
Shank: Cast Cast aluminum B-26, SGO7a (356-T6)
Hub Center: Extruded Alloy
Hub Plates: 5052-H32
Clamp Bolts: Zinc Plated Grade 5 Carbon Steel
Hub Bushing: Ductile Iron
Fan Series: 12F15, 12F24, 12F33, 12F45
Fan Diameter: 4'-8', 5′-14', 6′-15', 7′-20′
Dim. A: 15, 24, 33, 45
Dim. C: 4-1/16, 6-5/16, 6-5/16, 6-5/16
Dim. D: 2-3/4, 3-1/4, 3-1/4, 3-1/4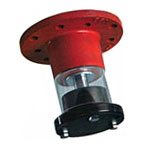 Low Cost: The unique design provides an economical solution to wear and damage on cooling tower fans and drive line components that are the result of starting while the mechanical components have been wind milling backwards.
Ease of Installation: Bolts to the threaded holes in the flange of E, F or J type QD bushings making installation quick and easy with no special parts or tools required. An installation kit is included providing all the material necessary for normal installations.
Trusted Engineering: Delivers years of reliable service in applications around the world solving problems where high winds produced excessive wind milling of fans in reverse. To find out more about how it could benefit you, contact Universal Tower Parts today.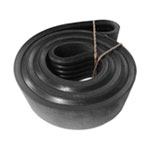 FAN BELTS AVAILABLE FOR THE FOLLOWING SERIES
1B100, 1B103, 1B105, 1B108, 1B112, 1B96, 1B97, 1B98, 1B99, 1B120, 1B124, 1B128, 1B133, 1B136, 1B140, 1B144, 1B148, 1B150, 1B158, 1B72, 1B74, 1B75, 1B77, 1B79, 1B80, 1B81, 1B83, 1B85, 1B87, 1B88, 1B90, 1B91, 1B92, 1B93, 1B94, 1B95
2B103, 2B105, 22B114, 2B115, 2B118, 2B120, 2B124, 2B126, 2B128, 2B130, 2B133, 2B140, 2B148, 2B162, 2B95, 2B97, 2B133, 2B148
3B133, 3B148, 3B154, 3B162, 4B144, 4B148, 4B162
5B133, 5B140, 5B148, 5B154, 5B162, 5B173, 6B136, 6B140, 6B148, 6B158, 6B173
WATCH OUR FEATURED COOLING TOWER FANS VIDEO HERE!
Universal Tower Parts is your #1 supplier of Marley Cooling Tower Fans, Evapco Cooling Tower Fans and many more manufactures. All Cooling Tower Fans are of the highest level of engineering and quality. We Provide Replacement Cooling Tower Fans For: EVAPCO, BALTIMORE AIRCOIL, IMECO, MARLEY & More. Additionally, our cooling tower fan blades can be painted at an additional cost.
COOLING TOWER FANS BY UNIVERSAL TOWER PARTS
Our cooling tower fans meet or exceeds standards set by the Cooling Technology Institute (CTI). Do you need a free cooling tower fan, industrial cooling tower fan, cooling tower fan blade quote or are you interested in learning more? Contact us today at 602-997-0403 to find out more about the unique advantages of Universal Tower Parts cooling tower fans.