Cooling towers are essential components of many industrial and commercial HVAC systems. They help dissipate heat from processes and maintain the temperature of various systems. In recent years, several trends and developments have shaped the cooling tower industry. Here are some of the current cooling tower trends:
Sustainable Design: Sustainability is a significant trend in cooling tower design. Manufacturers are focusing on energy-efficient designs and materials that reduce water consumption and environmental impact. Cooling towers with variable speed drives and energy-efficient fans are gaining popularity.

Water Conservation: As water scarcity becomes a global concern, cooling tower systems are being designed with a focus on water conservation. Technologies like dry cooling and hybrid cooling towers are being used to reduce water usage. Additionally, water treatment and filtration systems are becoming more sophisticated to minimize water wastage.

Adiabatic Cooling: Adiabatic cooling systems are increasingly used in cooling towers. These systems use the evaporative cooling effect to lower the temperature of the air before it enters the tower. This can improve the efficiency of cooling towers and reduce water consumption.

Smart and IoT Integration: Cooling towers are becoming more connected through the Internet of Things (IoT). Smart sensors and controls allow for real-time monitoring and adjustments, improving system efficiency, predictive maintenance, and energy savings.

Reduced Noise Levels: Noise pollution is a concern in many urban environments. Cooling tower manufacturers are working on reducing noise levels through improved fan design, noise-reduction materials, and sound enclosures.

Materials and Coatings: The choice of materials and coatings for cooling towers is evolving. Corrosion-resistant materials and coatings are essential to extend the lifespan of cooling towers and reduce maintenance requirements.

Legionella Control: Legionella bacteria can grow in cooling towers, posing health risks. Enhanced water treatment and disinfection methods are being adopted to control Legionella and ensure safe operation.

Modular and Prefabricated Systems: Modular and prefabricated cooling tower systems are becoming more popular due to their ease of installation and flexibility. They allow for faster project completion and reduced downtime during installation.

Hybrid Cooling Systems: Hybrid cooling systems that combine dry and wet cooling are gaining attention. These systems use less water than traditional cooling towers and can be more efficient, especially in areas with water scarcity.

Regulatory Compliance: Cooling tower systems are subject to various environmental and safety regulations. Staying in compliance with evolving regulations is a continuous trend in the industry, with a focus on minimizing environmental impact and ensuring worker safety.

Decentralized Cooling: In some applications, decentralized cooling systems are replacing centralized cooling towers. These smaller cooling systems are installed closer to the point of use, reducing energy loss and transportation costs.
The future of cooling towers is likely to be shaped by a number of factors, including:
The increasing demand for cooling. As the world's population grows and temperatures rise, the demand for cooling is expected to increase significantly. This will put a strain on existing cooling infrastructure, and will require new and innovative cooling technologies to be developed.
The need for energy efficiency. Cooling is a major consumer of energy, and there is a growing need to develop more energy-efficient cooling technologies. This is important not only for reducing greenhouse gas emissions, but also for reducing the cost of cooling.
The need to reduce water consumption. Cooling towers also consume a significant amount of water, and this is a growing concern in many parts of the world. There is a need to develop cooling technologies that can reduce water consumption, or that can use alternative water sources, such as rainwater or treated wastewater.
The need to improve air quality. Cooling towers can emit pollutants into the air, such as ozone and particulate matter. There is a need to develop cooling technologies that can reduce these emissions, or that can capture and treat the pollutants before they are released into the atmosphere.
Some of the promising technologies that are being developed for the future of cooling towers include:
Evaporative cooling towers. Evaporative cooling towers use the evaporation of water to cool air. This is a relatively simple and efficient technology, and it can be used in a variety of applications.
Desiccant cooling towers. Desiccant cooling towers use a desiccant material to absorb moisture from the air. This can be used to cool air in hot, dry climates.
Absorption cooling towers. Absorption cooling towers use a heat source, such as hot water or steam, to drive the cooling process. This can be a more efficient way to cool air than traditional evaporative cooling towers.
Dry coolers. Dry coolers do not use water to cool air. Instead, they use a heat exchanger to transfer heat from the air to a cooling medium, such as air or liquid. Dry coolers can be more energy-efficient than evaporative cooling towers, but they can also be more expensive.
The future of cooling towers is likely to be a mix of these different technologies. The specific technologies that are used will depend on the specific application and the environmental constraints. However, it is clear that there is a need for more energy-efficient, water-efficient, and environmentally friendly cooling technologies.
In addition to the technologies mentioned above, there are a number of other factors that are likely to shape the future of cooling towers. These include:
The development of new materials. New materials, such as graphene and carbon nanotubes, could be used to make more efficient and durable cooling towers.
The use of automation and smart control. Automation and smart control could be used to improve the efficiency and performance of cooling towers.
The development of new regulations. Governments are increasingly regulating the emissions from cooling towers. This could lead to the development of new technologies that can reduce emissions.
The future of cooling towers is uncertain, but it is clear that there is a need for new and innovative technologies to meet the growing demand for cooling. The technologies that are developed in the coming years will have a significant impact on the environment and the global economy.
Differences Between Cooling Towers And Chillers
With chillers, heat is removed directly from the coolant, then transferred to the surrounding air. This process is essential for any cooling process. A cooling tower, meanwhile, is designed to remove heat from any water that is discharged from the condenser. If a factory, etc chooses the wrong type of application, it is likely that the area will not be properly cooled.
Chillers and cooling towers undoubtedly produce similar results, but slight differences between the two units are why they are used in different plants, factories, etc.
Where Are Cooling Towers Used?
Here are a few applications that utilize cooling towers:
Oil and gas refining plants
Thermal power stations
Power plants near bodies of water
Where Are Chillers Used?
Chillers are used for many applications, including:
Plastic-industry applications
Microbreweries & wineries
Water-jet cutting applications
Types Of Cooling Tower
Here is a list of common cooling tower models used today:
Crossflow Cooling Towers
A crossflow cooling tower, because of its design, makes the hot process water flow down the fill media due to the force of gravity. This occurs while the air blows horizontally across the falling water, which cools it down. The air flow, of course, is the reason why it is named crossflow. In these towers, water requires only gravity for downward flow since there is no other force going against its direction. Hot water basins are placed above the fills, allowing for the water to be evenly distributed.
Counterflow Cooling Towers
In counterflow cooling towers, the hot process water flows downward on the fill media to continue its flow down to drain onto the cold water basin. In this model, though, the air will enter the tower in a lower section, compared to the crossflow towers. The air will flow upward, passing through the water flowing the fill, resulting in a cooling down phase. The pressurized pipes and nozzles are also placed further apart than in crossflow models, as to not restrict airflow to the tower.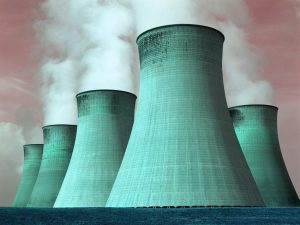 Factory Assembled Cooling Towers
These towers are used for HVAC and industrial applications in situations where a high cooling efficiency is not needed and limited space is available. Easy transportation and installation are the two biggest benefits of factory assembled versions. Factory assembled cooling towers are very popular models because they can be custom made to fit your industrial area's exact specifications.
Forced Draft Cooling Towers
Most industrial plants enjoy the benefits of using forced draft cooling towers. These models are extremely powerful, yet economical at the same time. Forced drafts remove low-potential heat generated within the production process. A counterflow of air and hot water in the cooling fill will result in a transfer of heat. These are ideal towers for the chemical and paper industries.
Induced Draft Cooling Towers
An induced draft tower features a fan at the top of the tower which pulls the air upward. The fan then induces the hot, moist air out of the discharge. The end result is a powerful exiting air velocity, reducing possible recirculation within the tower. These models will prevent any discharged air to flow back into the air intake point.
Types Of Chillers
These are the two most common chiller applications currently in use:
Air-Cooled Chillers
Air-cooled chillers absorb heat from the water, then transfer the heat outside of the system back into the air which surrounds the unit. The temperature of the air will lower as soon as it is transferred outside. Air-cooled versions are generally used by factories, etc that do not produce an excessive amount of heat.
Water-Cooled Chillers
Water-cooled chillers are commonly combined with cooling towers for large-capacity applications, such as food processing and water-jet cutting. Combining these chillers with a tower allows for maximum efficiency. The only downside with water-cooled chillers is the possibility that it will generate too much heat at times.
Universal Tower Parts In Phoenix, AZ
Universal Tower Parts provides stainless steel and galvanized options, welded and gasketed, direct, gear reducer and belt drive units, with efficient Jedair fans, and Jedair low noise fans. Strainers, fan guards and louvers are well constructed, and designed to operate efficiently as they perform their function. Cool Core drift eliminators and fill are made by Universal Tower Parts expressly for our towers.